Viridor says it can 'no longer tolerate' delays on scheme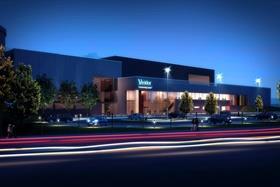 Interserve has been served notice of termination on its contract to build a £150m energy-from-waste power plant in Glasgow after the client said it "repeatedly failed" to meet its delivery milestones.
In a statement issued on the Stock Exchange, the contractor said the notice had been issued by client Viridor on its Glasgow Recycling & Renewable Energy project (pictured).
Viridor said it was making the move to "protect" the project and in a statement added: "With Interserve now reporting a forecasted failure to meet a contracted long-stop construction completion date, Viridor will commence a contractual process to terminate its contract with Interserve."
Alan Cumming, capital projects director for Viridor, added the client is "no longer able to tolerate" delays to the scheme.
He said: "Whilst commissioning is now well underway, our contractor Interserve has continually and repeatedly failed to meet delivery milestones.
"Viridor has made every effort to avoid this highly regrettable action. That said, against a backdrop of Interserve continuing to report further delays, Viridor is no longer able to tolerate further impacts on this important environmental project."
Interserve's statement added: "We are assessing the implications of this development with our legal advisers and will issue a further update in due course."
It comes after the firm announced in August that it was closing its energy-from-waste business after racking up £70m-plus losses.
The Glasgow project was initially meant to be completed in spring this year. Viridor told Building in April it was then expecting to start receiving waste deliveries in the summer with the plant fully operational in December. But it is now unclear when the plant is expected to be completed.
The news comes just a day after Interserve said its chief executive Adrian Ringrose, who became boss in 2003, was stepping down "in order to pursue the next phase of his career".