Pennon tells contractor it has to stump up cash for botched work as firm races to complete four remaining schemes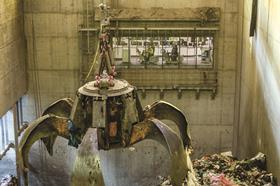 The client which kicked Interserve off an energy-from-waste scheme in Glasgow two years ago has repeated claims made earlier this year that the contractor owes it more than £60m for botched work on the job.
Interserve won the job back in July 2012 which then had a pricetag of £146m and an original completion date of early 2016.
But Interserve was kicked off the job at the end of 2016 and replaced by Doosan Babcock.
It will process up to 200,000 tonnes of waste annually and will be run by waste management specialist Viridor, whose parent, listed water utility Pennon, said in its annual results in May that Interserve is on the hook for £69m of extra costs.
Now in its half year results, issued today, Pennon said the figure had gone down but that Interserve still owed it £64m.
Pennon said: "High level of non-conformances have required rectification for work performed by our previous engineering, procurement and construction contractor.
"Viridor is contractually entitled to recover incremental costs from the original principal contractor, Interserve, under certain circumstances. Discussions with Interserve are ongoing with regard to the contractual settlement.
"The gross receivable is £72m, after taking into account an assessment of market indicators of credit risk for [Interserve], a provision of £8m has been recognised resulting in a net receivable of £64m at 30 September 2018."
A spokesperson for Interserve said: "The figures are as reported six-months-ago in Pennon's full year accounts. We can confirm discussions with Pennon are ongoing with regard to the contractual settlement."
At the time it was thrown off the job in 2016, Viridor's then-capital projects director Alan Cumming said: "Interserve has continually and repeatedly failed to meet delivery milestones."
Since then Britain's third largest contractor has written down £227m on EfW projects which it has now pulled out of.
In an unscheduled trading update on Friday, Interserve made no reference to the Glasgow scheme but revealed that all four EfW projects it is racing to finish are yet to be handed over to clients.
In its half year results in August, the firm had said: "[EfW plants in] Templeborough, Margam and Dunbar are all built and being commissioned, and are expected to reach completion during September and October".
An incinerator in Derby, which Interserve had said would be finished by October, is also yet to be handed over to clients.
In its half year results, Interserve also promised investors, despite risks remaining on commissioning, that: "We anticipate that all sites will be commissioned and handed over in the second half of 2018."
But Friday's update made no mention of an expectation the jobs would be finished by the end of Interserve's financial year on 31 December. A spokesperson for Interserve declined to comment on whether the 2018 deadline had been scrapped.
A spokesperson for Glennmont fund management, the client for Interserve's south Wales job, said: "Margam is in its final stages of commissioning and has generated power to the grid using biomass/waste wood.
"Commissioning work is expected to be completed over the coming weeks with handover following thereafter."
The Interserve spokesperson said: "All the projects have been constructed and are receiving waste. We are in the final commissioning phase at each project in readiness for handover."
Interserve's remaining EfW jobs
Sinfin, Derby
Client: Derby City Council and Derbyshire County Council
Contractors: Interserve and Renewi
Original due date: March 2017
Margam, south Wales
Client: Glennmont (Fund manager which invests in clean energy)
Contractors: Interserve and Babcock & Wilcox Vølund A/S
Original due date: Summer 2017
Dunbar, south east Scotland
Client: Viridor (Waste management firm)
Contractors: Interserve and Babcock & Wilcox Vølund A/S
Original due date: December 2017
Templeborough, Rotherham
Client: Copenhagen Infrastructure Partners (Fund manager which invests in energy infrastructure)
Contractors: Interserve and Babcock & Wilcox Vølund A/S
Original due date: Spring 2017