Balfour Beatty launches safety investigation after incident earlier this month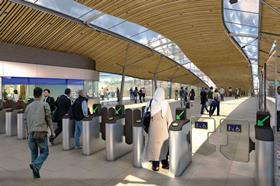 Balfour Beatty has carried out a safety investigation after a worker cut through a live cable while working on its Crossrail station project at Whitechapel, east London.
Crossrail and Balfour Beatty confirmed an investigation had taken place after a worker cut through a 110v temporary power cable on 8 December.
An on-site source, speaking to Building, claimed the worker was employed by Balfour Beatty's civil engineering arm and cut through the live cable without following correct safety procedure, including carrying out a risk assessment.
The source claimed: "[The worker that cut the cable] blamed the electricians for not isolating the power but he never checked himself.
"If someone says the cable is dead you always check yourself. Everyone knows that it is an unwritten law drummed into you as an apprentice."
The source also claimed that an electrician that reported the incident was transferred to another Balfour project unrelated to Crossrail, which he said upset fellow electricians.
Balfour confirmed the worker who raised concerns was transferred to another project, but said this was due to "temporary labour shortages" and was "not linked to the incident of the 8 December", adding: "He will be returning to Whitechapel in the New Year".
Balfour is building Whitechapel Crossrail station (pictured) in a joint venture with Morgan Sindall and Vinci.
A Balfour spokesperson said: "Although nobody was injured, immediate action was taken and an investigation commenced.
"Health and safety is of paramount importance to Balfour Beatty and as a result of this investigation, appropriate action has been taken to reaffirm safe working practices on site."
A Crossrail spokesperson said: "We are aware of the incident where a low voltage temporary power cable was cut at Whitechapel on 8 December.
A full safety investigation has been carried out by the contractor and the importance of safe working in these situations has been clearly reiterated.
"Everyone working on the project is actively encouraged to report incidents and near misses to make sure that lessons can be learnt.
"Crossrail has a good safety record and sets the most stringent contractor safety requirements in the industry. There is nothing so important on Crossrail that it cannot be done safely."