Industry welcomes infrastructure spending but flags concern with work volume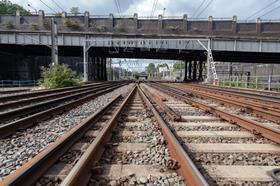 Industry has welcomed government's commitment to funding an "infrastructure revolution" but have warned that without more significant interventions the construction sector may not have the ability to build the projects.
Responding to the spending round statement, Jon Hart, infrastructure partner at law firm Pinsent Masons, said while a commitment to invest in infrastructure was important it comes at a torrid time for the sector.
He said: "The chancellor has highlighted the importance of investment in UK infrastructure and the need for an 'infrastructure revolution', but this is set against a backdrop of dismal construction output stats forecasting a fall of up to £10.5bn by the end of 2020 in the event of a no-deal Brexit.
"The bottom line is that serious issues need to be addressed. The long term skills shortage, supply chain management and the potentially damaging impact of post-Brexit tariffs should be high on the agenda. To be blunt, the need for considered investment has never been greater.
"It is important to understand what consideration is being given to investing in the nation's infrastructure and what substance there might be behind any mitigation policies to help support the construction sector."
Brian Berry, chief executive of the Federation of Master of Builders, also raised concerns about the sector's health and ability to deliver major programmes within its current constraints.
He said: "An upgrade of our infrastructure, including building new world-class schools and hospitals, will require a strong construction industry. The skills shortage is highly concerning in this respect, with just under two-thirds of builders struggling to hire bricklayers and more than half of builders struggling to hire carpenters.
"The announcement for an additional £400m to be pumped into further education is a welcome boost to giving colleges and employers the resources they need to train more apprentices, and make T Levels – which will become the vocational counterpart to A Levels – a success."
Hannah Vickers, chief executive of the Association for Consultancy & Engineering, said the organisation was pleased that the government looked set to adopt a new framework when deciding what projects to fund.
She said: "We welcome his announcement that the government will accept the new public value framework which will see spending decisions based on outcomes, not just costs, which we have campaigned for.
"As an industry we're ready and relish this shift towards a more productive relationship – preparing our value based business models to launch in the autumn."