Shareholders expected to flesh out their concerns over the way bust firm was being run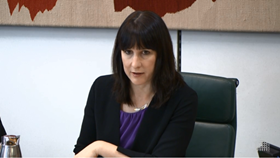 The MPs running the parliamentary inquiry into Carillion will question the failed contractor's major investors about its collapse next week.
Senior figures from Kilteran Partners, Aberdeen Standard Investments and Blackrock are set to face the joint inquiry, which is being co-chaired by Labour's Frank Field and Rachel Reeves (pictured).
In a written submission to the inquiry, Kiltearn Partners, who at one stage held 10% of Carillion's stock, said "there are clear grounds for an investigation into whether Carillion's management knew, or should have known, about the need for a £845m provision due to receivables on its construction business earlier than July 2017".
Last July, Carillion announced an £845m writedown on problem contracts which the hearing has already been told had to be revised up from £695m by interim chief executive Keith Cochrane just 24 hours before it was announced.
Kiltearn also said if Carillion had not gone into liquidation, it would have "considered participation in civil legal action against Carillion with a view to recovering a proportion of its clients' crystalised losses".
Murdo Murchison, chairman at Kiltearn Partners, will be joined by Euan Stirling, global head of stewardship and ESG investing at Aberdeen Standard Investments. The pair are set to appear next Wednesday along with Amra Bilic, managing director at Blackrock.
In its own written statement Standard Life Aberdeen said it began selling its stake in December 2015 due to concerns about financial management, strategy and corporate governance.
It said it was "felt that management was not giving sufficient weight to the probability that trading may deteriorate further or to the downside risk from this scenario given the high level of debt. The board showed no inclination to drive the management to change."
Also facing MPs next week will be Ernst & Young partners Andrew Wollaston, Alan Bloom and Lee Watson.
The accountant was called in to assist with a review of Carillion's finances after last July's £845m writedown.