Share price of RTC, which includes Ganymede business, recovers after earlier falls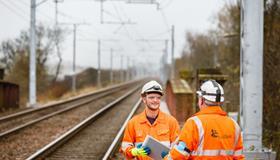 Shares in Derby-based labour supplier RTC recovered yesterday after the business said the amount of money it would lose from the Carillion collapse would not be as bad as markets had feared.
The firm's share price closed at 61p last Friday evening – the last day of trading before Monday's news Carillion had gone bust – with the stock sinking 16% to 51p by yesterday morning amid worries the group would be caught out by the implosion.
But in a trading update yesterday afternoon the firm, whose Ganymede arm provides labour for rail, civils and building projects, said its debts with Carillion were less than £100,000 and limited to to rail jobs.
It added: "The company is actively engaging with Carillion via the official receiver to ascertain how it can continue to support Network Rail and maintain this income stream."
At last night's close the £68m turnover firm's shares had recovered most of the week's losses to end up at 60.5p.