Kingston council had refused to give planning to Meyer Homes for 700 home scheme in west London
Communities secretary Sajid Javid has backed Kingston council's rejection of an appeal by Meyer Homes against the borough's decision to throw out its proposed 705-home development near the Tolworth roundabout in west London.
Plans for the scheme, on the site of former government offices near the A3, were originally developed by Collado Collins Architects for Tesco's development arm Spenhill Developments in March 2015.
The site was one of 14 sold in October that year to private equity firm Meyer Bergman, raking in £250m for the supermarket giant.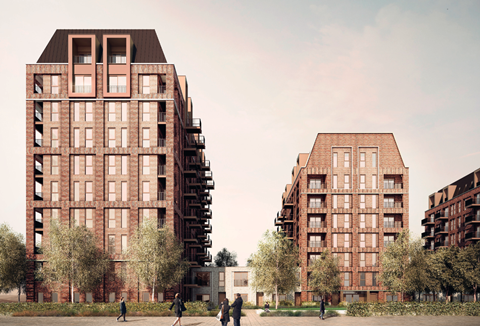 Amended proposals were then sent in by Meyer Homes last July but these were refused permission by the council, with the developer then lodging an appeal.
But in a letter issued last week, Javid agreed with the council's decision to reject the development, stating that Meyer Homes had not provided a sufficient guarantee over delivery of "wider community benefits, including affordable housing and works to the [nearby] Tolworth roundabout".
Leader of Kingston council Kevin Davis admitted the reasons for refusing the appeal "were not strong" but said the commitment of Meyer Homes to infrastructure improvements "were not sufficiently guaranteed by the agreement submitted by Meyer Homes as part of the scheme".
He added: "It's essential that any development on this site delivers results for residents, both in terms of housing but also infrastructure, including investing in affordable homes, schools and roads, especially Tolworth roundabout."
The council said that Meyer Homes, which has been contacted for comment, has submitted a new application for a 950-home development on the site, designed by architect JTP, which will be "considered in due course".