Club plans major investment to improve grandstand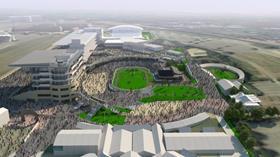 The Jockey Club has unveiled a plan for £45m of development at Cheltenham Racecourse.
The plans include a new grandstand, including members' facilities, public viewing areas, private and royal box facilities.
The grandstand will replace one which was built in the 1920s.
The development is due to start in spring 2014, subject to planning permission, for completion before the Cheltenham Festival in spring 2016.
Paul Fisher, group managing director of Jockey Club Racecourses, said Cheltenham was the group's "crown jewels".
He said: "With [a feasibility study] completed and having now been presented with a robust business plan, a range of financing options and a carefully tested design, they [the board] had no hesitation in approving the project."