Founding partner of Broadway Malyan dies aged 85
John Malyan, one of the founding partners of Broadway Malyan, has died aged 85.
The firm was founded with Cyril Broadway in the late 1950s and today has more than 500 staff, across 16 studios worldwide with projects in more than 40 countries.
Malyan passed away last week and retired in 1996, with Broadway having retired nearly 30 years earlier in 1968.
Paying tribute, Broadway Malyan group chairman Stuart Rough said: "He was a great man. He had a real presence both in terms of his physical stature and his charisma – when he walked into a room everybody stopped to listen.
"John interviewed me when I first joined Broadway Malyan and I have fond memories of working with John in the years that followed where he was an important mentor to myself and many of my senior colleagues in terms of his knowledge and support. He knew everyone at Broadway Malyan like family.
"It is now 20 years since John retired but his influence in what the practice has become should not be under-estimated and he was held in high regard by everyone at the practice who had the pleasure of working with him. This is a sad day for the practice and our thoughts and condolences are with John's family at this time."
He is survived by his wife Pauline and daughters Louise and Fiona.
Obituary
Colleague Alun Thorne looks back at his career
Born in pre-war Surbiton, John's love of the built environment stemmed from early visits to his grandfather's joinery shop in Buckhurst Hill and he would have been a builder until his uncle told him that architect's got to tell builders what to do.
He duly joined the Department of Architecture at Epsom School of Art as a 15-year-old and was immediately barred from life drawing classes on account of his tender years. Within a year he had enrolled at the Architectural School at the Kingston School of Art on the recommendation of a friend of his fathers.
Over the next six years John learned from a cohort of exemplar tutors that included James Cubitt, Stefan Buzas, Joe Chamberlin, Geoffrey Powell and Christopher Bon with visiting tutors that included such eminent figures as Philip Powell before he was made a knight of the realm.
In fact after passing his finals in 1953 and being elected as an Associate of the RIBA he took his first job with Powell and Moya where he stayed for four years (having spent two of those in the Royal Engineers in Trieste on National Service) before joining Eric Lyons' East Molesey studio to indulge in his true architectural passion of housing.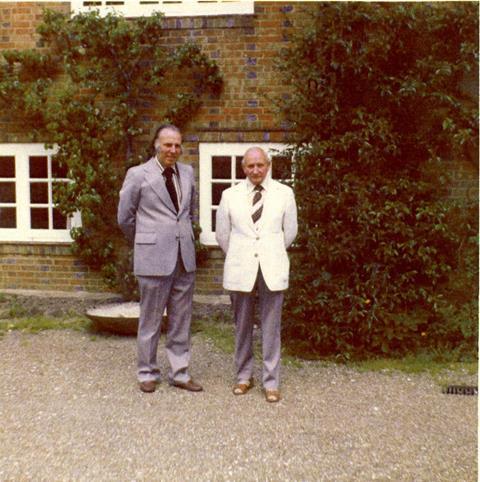 With Powell and Moya John worked on their famous Churchill Gardens housing scheme in Pimlico and after joining Eric Lyons he worked on a range of projects for Span Developments and he felt fortunate to have worked with such key exponents of the sector at such an early stage of his career.
Hoping to raise the finances to marry his beloved Pauline Dawson, who he met in 1956, John answered an advert in the Architect's Journal by a one man band in Weybridge who was looking for some 'architectural' help. That's when he met Cyril Broadway.
The first project they worked on together was the conversion of a wheelwright's workshop and cottage into a new home – much of John's work being done in the evenings and weekends – and then just before John's wedding in 1958 Cyril first suggested the idea of forming a partnership and Broadway and Malyan was born.
In 1960 Broadway and Malyan opened a second studio in Surbiton before the practice consolidated in Weybridge and it was in the mid-1960s that the practice received its big break after coming second in RIBA/Ideal Home architectural competitions in Stockport and Harlow.
Over the next 30 years until his retirement in 1996 John oversaw the steady growth of Broadway Malyan alongside partner Hugh Cole following Cyril's retirement in 1968 with successful projects in the early years including the Homefields sheltered housing scheme in Hersham and the Alpha House office scheme in Reading.
In 1982 John was awarded the MBE for services to architecture and housing and throughout his career he sat on various Government committees, was Chairman of the Centre for Accessible Environments and sat on the board of the National House Building Council where he campaigned for better standards of design as well as better quality of construction.
John was also elected as Chairman for the RIBA South East Region, sat on the RIBA Council and was awarded the RIBA South East Region's medal for services to architecture in 1993.
Outside of architecture John was a huge vintage car enthusiast with a particular passion for Frazer Nash sports cars after acquiring his first in 1962, a 1929 short chassis Super Sports PK4481.
John is survived by his wife Pauline and daughters Louise and Fiona.