The group's results were affected by a rocky first half of the year in its Australian and Asian businesses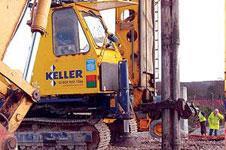 Geotechnical contractor Keller Group has seen a drop in pre-tax profit to £25m, down from £31.6m the previous year in its latest results.
The drop was attributed to £5.2m of exceptional items primarily relating to costs from acquired assets. The group acquired Brazilian foundation contractor Tecnogeo for an initial consideration of £11.8m in February and Smithbridge, and a marine construction business in Brisbane, Australia, in April for £1.8m.
Revenue for the half year to June 2016 was up 12% to £850m, from £756m for previous year, despite a difficult first half for the company's APAC businesses in Australia, Singapore and Malaysia.
The division made a £9.6m loss in the first half of the year due to an end in profits from the Wheatstone LNG project in Western Australia, project delays to two of the businesses largest Australian projects and low volumes and one-off costs in the firm's Singaporean piling business.
Keller's US business and EMEA businesses continued to perform well. However, the firm flagged that the Brexit vote in the UK and the period of economic and political uncertainty it has created would likely impact its operations, but added that its UK business accounts for less than 4% of the company's revenue.
The Group said it expects its APAC business to return to profit in the second half of the year as delayed projects get going, but sees its full year results being at the lower end of the board's expectations.
Alain Michaelis, chief executive of Keller Group, said: "We have seen an encouraging start to the year in North America and EMEA, our two largest Divisions. APAC made a loss in the period, due to market conditions and project delays, but we expect a return to profitability in the second half of the year. Overall, the Group continues to make good progress against our medium-term objectives, building on our strong market positions and favourable market trends."