Groundworks firm will shed 7% of its workforce following strategic review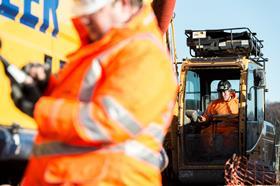 Groundworks specialist Keller is to shed 700 jobs and take a £57m hit on loss-making businesses in the Far East, Brazil and South Africa.
Last month Keller's shares slumped by nearly a third to 662p after it revealed its Asia-Pacific operations would make losses of between £12m and £15m instead of a small profit.
At the time of its interim results, published in July this year, the firm said it expected its Asia-Pacific business to record a profit for the full year.
Following a subsequent strategic review Keller, which employs 10,000 staff around the world and last year made a pre-tax profit of £99m on turnover of £2.1bn, said its ASEAN business was getting out of heavy foundations activities in Singapore and Malaysia, and its Waterway arm would be exiting the bridge superstructure market to refocus on higher margin work.
In Malaysia prime minister Mahathir Mohamad's new government has announced a series of swingeing budget cuts, blaming the previous administration for ramping up the country's debt.
Keller said markets in South Africa and Brazil were also challenging, being affected by what it called the "geo-political environment".
European, North American and Middle Eastern trading was in line with expectations, it added, although the group-wide outlook for 2019 was "mixed", with the contribution from major projects expected to be lower than this year.
Alain Michaelis, Keller's chief executive, said the group was taking "tough but necessary actions to reduce our cost base and exposure to unprofitable market segments, and we are also sharpening our control regime".
Keller will announce its results for the year to 31 December 2018 on 4 March 2019.