London mayor Sadiq Khan asks Defra to devolve power to fine firms using polluting machinery on site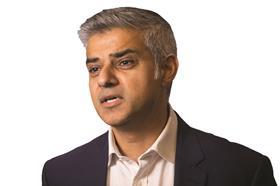 Sadiq Khan has demanded the government grant him powers to fine construction firms that use heavily polluting equipment on sites in the capital, Building can reveal.
The London mayor (pictured) said clean or retrofitted construction equipment is vital to "protecting the health of all Londoners". Khan's team at City Hall has asked officials at the Department for Environment, Food and Rural Affairs to devolve the power as part of a revised air quality plan.
The news comes as London issued a "very high" air pollution warning for the first time this week, with the rise in toxicity blamed on cold, calm and settled weather, meaning winds were not dispersing local pollutants.
Last year the High Court gave the government until April to produce an updated draft air quality plan. Its previous plan was ruled to have not cut nitrogen dioxide to legal levels in the "shortest possible time".
Currently, London boroughs tackle polluting equipment on construction sites through the planning system but they cannot issue fines. Khan's team wants to ape the low-emission zones used by TfL to reduce the use of diesel-powered commercial vehicles in London.
In those zones, non-compliant vans can be fined £100 a day, while heavier vehicles using diesel can be penalised £200. Khan's plan would apply to a range of equipment from cranes to diggers such as JCBs but the level of fines has not yet been decided.
The fine would not be so punitive as to make it economically unviable to bring in construction equipment needed for only a short time, such as piledrivers. It is accepted that the cost of retrofitting some rarely used equipment can be prohibitively expensive but the fine would be sufficient to encourage the use of clean kit needed regularly on site.
The mayor's experts estimate that equipment emissions can be reduced by 70% if existing London Plan standards controlling emissions on building projects are extended to cover equipment are and used to determine fines. Around 15% of particulate pollution in the capital is the result of construction and demolition work.
Khan told Building: "Tackling London's filthy air is one of my main priorities. Construction is a major source of pollution in the capital, responsible for about 7% of NOx [nitrogen oxide] emissions. I have asked for new powers so I can introduce a strong new low-emission zone for construction machinery to ensure that only clean or retrofitted construction plant is used, protecting the health of all Londoners …
"In quashing the government's air quality plan for the second time, the High Court was clear government must do more. A first step would be to give me these new powers through a new 21st-century Clean Air Act."
A government spokesperson said: "We are firmly committed to improving the UK's air quality and cutting harmful emissions. We will update our air quality plans next year to further improve the nation's air quality."