Mayor of London steps in for first time over two high-rise resi towers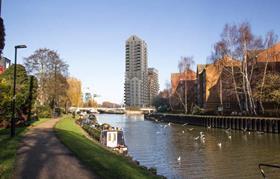 Mayor of London Sadiq Khan has stepped in for the first time since being elected to take over two planning applications for high-rise towers.
It comes after Haringey Council rejected an application for up to 505 homes including a 21-storey tower designed by Allies and Morrison at Hale Wharf (pictured) in Tottenham, over concerns that it would be too tall and would negatively impact green belt land.
An application for 186 homes in Palmerston Road in Wealdstone was also rejected by Harrow Council as the 17-storey development was deemed too high.
Both developments were rejected by members of their council planning committees against the advice of their planning departments.
Following Khan's intervention, City Hall planners will now work with the developers and will look to include more affordable housing.
Plans for Hale Wharf in Tottenham currently include 30% affordable, which could rise to 35% through a review mechanism.
Plans for the site in Palmerston Road in Wealdstone currently include 41% affordable housing.
Both sites sit within designated Opportunity Areas and Housing Zones – areas of land that are considered appropriate for development.
Khan, said: "These developments have the potential to bring real benefits as part of the wider regeneration of Tottenham Hale and Wealdstone, including hundreds of genuinely affordable new homes. However, each proposal needs work if they are to realise that potential."