Available 10-acre area could deliver around 1,000 new homes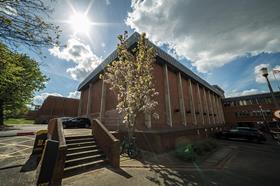 Mayor of London Sadiq Khan has urged the government to ensure that land at the Holloway Prison site is used to build genuinely affordable housing as quickly as possible.
The 10-acre site in Islington, north London, which could deliver around 1,000 new homes, has been put up for sale by the Ministry of Justice, with a 15 November deadline for expressions of interest.
Khan is concerned about the government's disposal process, with the site being offered to buyers with no restrictions or constraints.
He said this increases the risk that the site could be 'land banked' – a process which sees them lying idle and unused for years.
The mayor has been working with Islington Council on its new planning document for the site, which sets out that it can viable include 50% affordable housing.
He has now written to the justice secretary David Lidington, offering City Hall housing and land experts to work with the Ministry of Justice to secure the best deal on the site which can be reinvested in the government's prison reform programme, whilst also ensuring new homes are built at pace with a high level of affordable properties.
"Holloway Prison is a major site capable of delivering a large number of new and affordable homes for Londoners," said Khan. "It's absolutely crucial we do not run the risk of this prized asset being 'land banked' and left unused for decades.
"London desperately needs new and affordable homes right now. I am offering to work with the government – with help from my experienced Homes for Londoners team - to ensure this site not only achieves good value to be reinvested in the prison service, but also that it is built on quickly and delivers hundreds of new and genuinely affordable homes."
In November 2015, then-chancellor George Osborne announced in his autumn statement that the prison would be closed and sold for housing. It closed in July 2016 and the prison buildings still stand, with draft proposals for the site including housing, a public open green space, playground, women's centre and small amount of commercial space.