New mayor backs Heatherwick bridge in his first question time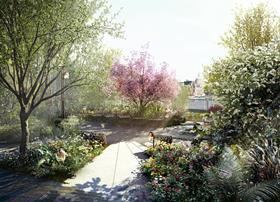 It would be more expensive to scrap the Garden Bridge than to build it, Sadiq Khan claimed in his first Mayor's Question Time (MQT) at City Hall.
London's new mayor revealed that £37.7 million of public money has already been spent on the Heatherwick Studio-designed project.
Khan said, in comments quoted by LBC: "Of the £60 million of total public funding, £37.7 million has already been spent. If we were to cancel the project today that would have been spent for no benefit at all for Londoners.
"However, if we complete the Garden Bridge, then not only will TfL be paid the £20 million loan by the Garden Bridge Trust, but they will also pay roughly £22 million in VAT to the government.
"That would leave an ultimate cost to the taxpayer of £18 million for completing the Garden Bridge, significantly lower than the £37.7 million cost of cancelling it.
"It is clearly in the interest of taxpayers to complete the Garden Bridge."
Khan supported the bridge in his mayoral campaign but said questions must be asked about its procurement.