London Mayor candidate to tackle excesses at TfL and end "fanciful" vanity projects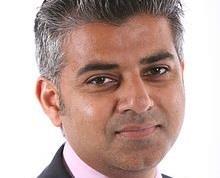 London mayoral candidate Sadiq Khan has vowed to cut waste at "flabby" Transport for London (TfL) and cut funding for needless "vanity" projects such as the Thames Estuary Airport and the cable car between Greenwich and the Excel Centre in east London if elected.
Speaking in Brixton to launch his transport strategy Khan, the son of a south London bus driver, said the city's transport had a "special place" in his heart, but that waste at TfL was "not acceptable".
He said: "I have real plans to have London a better and safer city in which to cycle, to reduce congestion and turn London's bus fleet electric. I'll be the bus driver's son who makes commuting more affordable.
"Some people say it is not possible to make a transport system which is both modern and affordable, I completely disagree, we can freeze fares while continuing the investment needed to modernise the transport system."
Khan vowed to put an end to any Mayoral funding for the Eastuary Airport, dubbed Boris Island, which has been vigorously supported by current encumbent Boris Johnson.
Khan has built his transport policy around the potential fare freeze, which he claims would save the average Londoner £1,000 over four years compared to his main rival, conservative MP Zac Goldsmith. Goldsmith has accused Khan of putting investment in London's transport at risk with the fare freeze.