Business has been up for sale since summer 2019
Kier has agreed to sell its housing arm for £110m.
The contractor, which is due to report its interim results on Wednesday next week, has been trying to get rid of its Kier Living business since summer 2019 when then new chief executive Andrew Davies decided it was no longer core.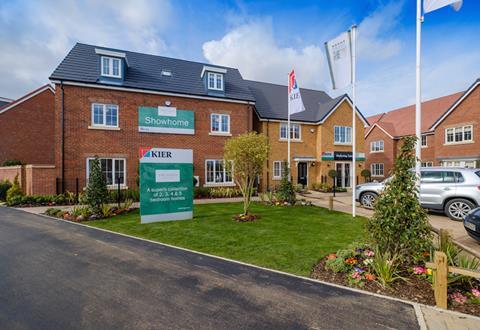 The Kier Living business has now been bought by Terra Firma, a private equity investment firm.
Commenting on the sale in a Stock Exchange announcement this afternoon, Davies said: "The actions we have taken over the last two years have created a strong operational platform for sustainable profitable growth and free cash flow.
"The disposal of Kier Living delivers another key milestone in the group's strategy to simplify the business and strengthen its balance sheet."
Kier said the deal would facilitate a material reduction in its debt and reduce the "volatility" of its working capital.
In a January trading update, Kier said average month-end debt for the first half would be around £436m.
Kier said Terra Firma had paid a non-refundable deposit of £40m, held in escrow and to be released on completion.
Once Kier's shareholders have approved the sale the housing business will be renamed Tilia Homes.
The business will continue to be run by its existing senior leadership team including the division's chief executive David Bridges.
Guy Hands, chairman and chief investment officer at Terra Firma, said: "We believe the business, under a new, refreshed brand, has significant growth potential, and can play a critical role in delivering much-needed housing in communities across the UK.
"With the acquisition being equity funded, Kier Living's ability to compete in the land market will be significantly enhanced."
In its latest annual report, published last October, Kier valued the housing business at £110m, a fall of just over £51m on the previous estimate which it said it was taking as an impairment. It said it had revised the value down "due to the uncertainties in the market resulting from covid-19".
Kier Living's latest accounts for the year to June 2020, signed off just before Christmas and filed at Companies House in January, show that pre-tax losses widened to £89.4m from £6.5m last time.
It said the bulk of the loss was caused by having to write off a £50m loan to another residential business, Kier Caledonia Homes, because the firm did "not have sufficient assets to repay the debt".
But it also took a £22.3m hit on exiting fixed-price building contracts while it said the cost of dealing with the covid-19 pandemic had racked up a £4.4m bill.