Firm says 2019 revenue £100m lower than last time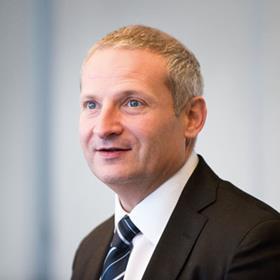 Kier has chosen an industry outsider to take over as chief financial officer because of his experience streamlining businesses – as the firm issued another profit warning.
The firm, which will release its results for the year to June next month, said turnover during the period is around £100m lower than its 2018 revenue of £4.5bn – which it says will lead to a dip in profit "broadly in line with historic gross margins".
It added there was "significant interest" in its up-for-sale housing arm, Kier Living, which is under the hammer as part of a major restructure at the contractor by chief executive Andrew Davies which includes getting rid of 1,200 staff by the middle of next year and selling other non-core businesses.
Current finance director Bev Dew will leave Kier on 26 August after watching its share price lose more than 95% of its value since he joined at the start of 2015 – with the stock closing at a new all-time low of 61p yesterday.
Dew will be replaced by Simon Kesterton (pictured), who has worked as group finance director at listed packaging firm RPC since 2013.
Kesterton previously worked in the automotive parts sector, spending nine years in executive positions at IAC Group and Collins & Aikman.
Davies said: "Simon has a broad range of finance experience across a number of sectors.
"In particular, he has played a key role in implementing programmes which focus on the disposal of non-core assets, the reduction of overheads and cost control."
The new finance chief will be tasked with reducing the firm's debt load, with Kier's average month-end net debt sitting at £422m for the year ended 30 June, despite a £264m rights issue last December.
Its share price had recovered to 88p, a rise of 43%, by 10am this morning.