Ed Balls says £3bn plus received through 4G network auction should be spent on housebuilding and stamp duty holiday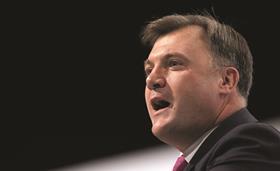 Shadow chancellor Ed Balls has called for a £3bn programme of housebuilding to kickstart the economy, paid for using the proceeds of the forthcoming auction of 4G mobile phone spectrum.
In his keynote speech to the Labour Party conference in Manchester today, Balls will say that if Labour was in power today it would spend the money on building an extra 100,000 affordable homes and a stamp duty holiday for all homes below £250,000.
However, Balls will not make any promises of what policies Labour will institute if elected in 2015, because it is so unclear what the state of the economy will be at the time.
Balls will say: "In difficult times, we urgently need to put something back into the economy," and that it is time to "cut through the dither and rhetoric and actually do something".
Balls is expected to point out that in the last two years 119,000 construction jobs have been lost and there has been a 68% fall in the number of affordable homes being built.
Speaking to BBC Breakfast News, Balls said the £3bn homes boost was a "clear and costed plan" to boost the economy and that a future Labour government would "put jobs and growth first," but refused to be drawn into making further policy pledges.
He said: "Yes we'll act on jobs and growth, but we can't make promises right now. I'm not saying short term things, I'm saying we need to plan for the long term. Labour supporters want hope for the future and action on jobs."
"But I'm also going to say that the reason why our deficit is going up now, is because we're in recession and thegovernment is failing on the economy and I'm setting out a clear and costed plan today.
"I think your viewers are fed up off the government making excuses they want action now and a labour government would act to get people back to work and get the deficit down."