Exclusive: Chief executive Anna Stewart writes to Vince Cable following pressure over the firm's offshore tax arrangements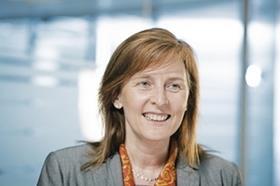 Laing O'Rourke's boss has written to the business secretary Vince Cable to defend the firm's tax position.
The move follows pressure from Conservative MP Stephen McPartland, who last month wrote to Laing O'Rourke chief executive Anna Stewart questioning the tax arrangements of the firm, which is registered in Cyprus and is a "wholly owned subsidiary" of a company incorporated in the British Virgin Islands.
The business department, led by Cable, echoed McPartland's concerns, saying Cable expected "companies from all sectors, including construction … [to] pay their fair share of tax in accordance with UK law".
In response Stewart (pictured) sent two letters last week, one to McPartland and the other to Cable and Sir David Higgins, who jointly chair the Construction Leadership Council, on which Stewart sits.
In the letter to McPartland (attached right), Stewart said "all firms trading in the UK should pay the correct amount of tax" and Laing O'Rourke "enjoy[ed] a positive and proactive relationship" with HM Revenue & Customs.
She said the firm's UK corporation tax cash payment to HMRC in the past four years was 25.4% which was "broadly in line with the UK corporation tax rate over that period".
Stewart pointed to the firm's work in various areas and said it contributed "significantly" to the UK economy.
In the letter to Cable and Higgins, she said it was not right to "infer some wrongdoing" on the part of Laing O'Rourke due to its tax affairs. "The alleged wrongdoing seems only to be that Laing O'Rourke has an international business and international ownership structure," she added.
McPartland said he was "disappointed" by the reply and pledged to continue his inquiries. "We asked her if she supported tax transparency and country-by-country reporting and she didn't answer", he said.
Laing O'Rourke has won roles on more than £1bn of UK public sector work since January 2012, according to construction database Barbour ABI.
Downloads
PDF, Size 0 kb

PDF, Size 0 kb

PDF, Size 0 kb