Exclusive: Individual connected to JV arrested as part of ongoing fraud probe into £250m Farringdon station project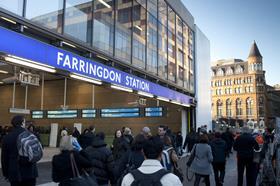 An individual connected to the Laing O'Rourke and Costain joint venture building the £250m upgrade of London's Farringdon station has been arrested as part of an ongoing fraud probe into the project, it has emerged.
As Building revealed in April, British Transport Police have arrested four people in connection with a fraud inquiry over alleged corruption in the procurement of rail construction contracts in London.
Network Rail confirmed to Building that the inquiry is centred on its upgrade of Farringdon station for Thameslink, with the investigation leading to the arrest of three senior figures at London-based subcontractor Alandale Group.
It is now understood that these three are part of Alandale Rail, a subsidiary of £42m-turnover Alandale Group, while the fourth person arrested is connected to the Laing O'Rourke and Costain joint venture. This week the British Transport Police confirmed the arrested individuals were interviewed again by police last month and have been re-bailed until the autumn. They added that no charges have been laid and the investigation is continuing.
Costain declined to comment when asked about the arrest.
Laing O'Rourke said: "This is a matter for the British Transport Police and any queries should be directed to them."
Alandale Rail is a preferred supplier to the Costain and Laing O'Rourke joint venture, as well as to Network Rail and the London Underground.
In a statement, John Zayya, director of Alandale Rail, said the firm was taking the allegations "extremely seriously" and had launched an internal investigation.
He said: "Very few details have been released to Alandale Rail in respect of the investigation that is currently being conducted by the British Transport Police.
"Those employees who have been interviewed have co-operated fully with the investigation. There is absolutely no evidence that I have found to date that any employee of Alandale Rail has ever been involved with (or knows of any person involved with) any criminality being investigated.
"I can also firmly state that these allegations are totally refuted by our employees and Alandale Rail Ltd will continue to assist the police with their investigation."
Alandale Group, which has construction and logistics divisions as well as a rail arm, has worked on a number of high profile projects, including the London 2012 Olympic velodrome and the broadcasting and media centres, as well as the £920m Paradise Street development in Liverpool.