Chief executive Ray O'Rourke eyeing return to profit in 2018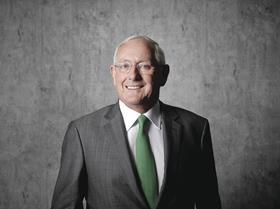 Laing O'Rourke narrowed losses in 2017 but continuing problems with a PFI hospital contract in Canada and ongoing restructuring costs helped keep it in the red for a second successive year.
The country's biggest private builder had already flagged up more issues on the Centre Hospitalier de l'Université de Montréal project, which the firm is delivering in joint venture with Spanish contractor OHL, just before Christmas and in a note accompanying its 2017 results, the firm said the job had blown a further £83m hole in its accounts – on top of the £93m it lost on the job in 2016.
Phase one of the scheme has been completed with Laing O'Rourke handing over building work on the second phase of the job to Canadian contractor Pomerleau with around 15% of the scheme still to be finished.
In its latest set of accounts for the year to March 2017, which were signed off on Friday (2 March), the firm said that losses on Canada and other joint ventures was £86.2m.
The firm, which last month began construction work on an £850m retail scheme in Edinburgh, said restructuring its European business, which includes its UK arm, had hit it for another £11.6m, including redundancy payments and consultation costs.
This helped it rack up a £67m pre-tax loss although this was down sharply on the £246m loss it posted in 2016 while underlying profit, helped by improvements in the performance of UK contracts, returned to the black, turning an £82m loss in 2016 into a £35m profit 12 months later.
But the amount it spent on restructuring was down from the £23.1m it posted in 2016 and there was better news at its Design for Manufacture business with the firm reporting no exceptional costs in 2017 following the £43.3m it racked up in 2016 in contract losses on three jobs. It added: "Significant lessons have been learned from these projects, all of which were won in 2013; a particularly aggressive price-driven market."
And Laing O'Rourke has not paid out any more money compensating blacklisted workers under an initiative called the Construction Workers Compensation Scheme which saw it hand over £5.1m in 2016. It also made an £8m profit last year on the sale of its construction plant business.
Chief executive Ray O'Rourke said the firm was expecting to post a pre-tax profit in 2018 when its current financial year closes at the end of this month, adding that its current order book stands at over £10bn.
He said: "The Group has responded strongly to recent challenges, not only by restructuring the UK business, but also through new processes and controls on project selection, operational delivery, digital data and risk and assurance."
He added that he wants to outperform the government's industrial strategy timetable which would see construction productivity on a par with the aviation and automotive industries by 2025.
And in a reference to Carillion's collapse, O'Rourke (pictured) said: "It has been a difficult time for our sector and recent events have only reinforced the importance of Laing O'Rourke's early actions to redefine the business."
Laing O'Rourke's revenue during the period went up to £3.2bn from £2.5bn in 2016 with income from its two businesses – Europe, which includes the UK, UAE and Canada, and its Australian hub, headed up by O'Rourke's son Cathal – rising by £393m and £239m respectively.
But the firm said its Australian business was hit by an A$70m (£39m) loss on a huge gas station job in northern Australia over a pay dispute.
The contractor was building four cryogenic tanks at the LNG Tanks Project in Darwin for lead construction partner Japanese firm Kawasaki Heavy Industries. It pulled its 800 workers from the job last March and in its accounts Laing O'Rourke said it "intends to pursue a number of substantial claims" over the work.
The number of employees at the business at the year end inched up by 39 people to 15,273 although its wages bill went up 12% to £778m.
Having now filed its group accounts, Laing O'Rourke, which is registered in Cyprus but whose ultimate parent is British Virgin Islands-registered Suffolk Partners Corporation, is expected to file accounts for its individual businesses, including its largest, Laing O'Rourke plc, at Companies House later this month.
The firm, which has extended the date on its refinancing deal (see box below), said it plans to move the tax status of the group from Cyprus to Jersey during this year.
Refinancing date extended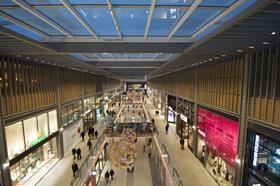 The firm said it has extended its refinancing date with its banks for its UK business by six months to 30 April 2019.
In April 2016, Laing O'Rourke agreed a £61m refinancing deal which was due to run out at the end of this October.
But in its accounts, it said this had been extended to the end of next April. It added that it had begun discussions with its lenders, who include HSBC and Lloyds, to meet its current obligations which it said would be wrapped up this June.
The firm, which recently completed the £400m Westgate shopping centre in Oxford (pictured), said it arranged a £13.7m bank facility last month which has been secured against an unidentified UK property and added it also put in place last month a £15m unsecured standby loan from its principal shareholder – believed to be O'Rourke himself.
It added that its net funds – cash less debt – had improved during the period by £20m to £65.5m. It said its Australian hub trades without borrowings.
The firm said it would contine getting rid of non-core assets which last July saw it sell its investment in a shopping and restaurant hub in Dublin called Canal Harbour Development Company for £27.8m followed by its precast concrete business Bison Manufacturing to materials firm Forterra for a profit of £9.7m last September. Last month it sold part of its PFI Explore Investments business and Canadian subsidiaries for a £6.3m profit.