Firm in talks with consortium partners to recover shortfall after cost increases on mammoth project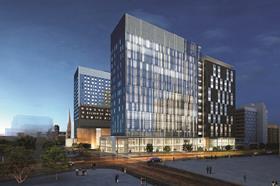 Laing O'Rourke has racked up losses of up to £80m on a delayed PFI hospital scheme in Canada, Building understands.
The other construction firm working on the scheme - Spanish contractor Obrascón Huarte Lain (OHL) - last week told the Madrid stock exchange it had lost €105m (£90m) on its deal for the Centre Hospitalier de l'Université de Montréal (CHUM)in Montreal.
OHL brought in Laing O'Rourke to help design and build the giant project (pictured) - which is the largest healthcare construction project in North America at 3 million ft2 across 21 storeys and carries a C$2.1bn (£1.2bn) price tag - less than 12 months into the scheme at the end of 2011.
The two firms are building the hospital in a PFI consortium called Construction Santé Montréal (CSM), which also comprises UK-based investor Innisfree and French firm Dalkia.
Sources close to Laing O'Rourke told Building the firm's own loss runs to around £80m and it is in talks with other partners in the consortium about trying to recover some of this shortfall.
Laing O'Rourke has previously reported two years of losses on the CHUM project, of £2.5m in both its 2015 and 2014 accounts, but these have swelled further.
One source said the loss relates partly to the extra staff costs from delays to the scheme, while others told Building it also relates to changes to the design made by the client a year into construction, which have increased costs on the project as well as the overall budget.
Sources said the contractor had tried to find "as many ways as possible" to use its precast concrete system on the project to "realise savings and efficiencies" and reduce the numbers of workers - which currently number 2,500 - needed but said using the system "just wasn't possible."
The news comes as it emerged the first phase of the hospital, which comprises 85% of the overall scheme and has been mired in delay, has no set completion date.
The first phase was due to be handed over to the client on 22 April this year before the deadline was pushed back to 6 November. But this latest deadline was scrapped and it is understood the consortium is in talks with the hospital over a handover date, which is expected to be towards the middle of 2017.
Once complete, the first phase of the hospital will include 772 beds in single rooms and 39 operating theatres. The completion of phase two of the hospital, comprising a library and an amphitheatre as well as administrative offices, has also been pushed back from 2019 to 2021.
When contacted by Building, CHUM referred enquiries to CSM, which in turn referred enquiries to Laing O'Rourke.
A Laing O'Rourke spokesperson said the firm "never comments on the commercial performance of individual projects".