The contractor confirmed losses on the project ran to £93m so far earlier this year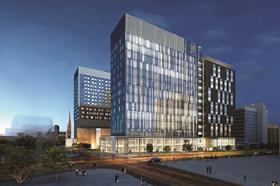 Laing O'Rourke has finally completed the first stage of a PFI hospital scheme in Canada, on which it has racked up £93m of losses to date.
Laing O'Rourke in a statement said that following the achievement of substantial completion on the first stage of the 21-storey superhospital in Montreal there would now be a transition period of six months to test the hospitals systems prior to admitting the first patient in October.
"This will trigger stage two of the project, as patients from adjoining St Luc Hospital enter the new facility, enabling St Luc's demolition," the statement added.
Laing O'Rourke was brought in to help design and build the C$2.1bn (£1.2bn) hospital by Spanish contractor Obrascón Huarte Lain (OHL), which is also on the scheme.
OHL, itself, revealed a loss of €105m (£90m) on its deal in November last year for the Centre Hospitalier de l'Université de Montréal (CHUM).
The two firms are building the hospital in a PFI consortium called Construction Santé Montréal (CSM), which also comprises UK-based investor Innisfree and French firm Dalkia.
Laing O'Rourke had reported losses on the 3 million ft2 project - the largest healthcare construction project in the region - in its accounts for 2015 and 2014 totalling £5m prior to Building revealing that the contractor was making a further substantial loss on the project last autumn.
Laing O'Rourke confirmed it had made a £93m loss on the scheme in its latest accounts posted on Companies House in January, which contributed to the contractor reporting a £246m loss for the financial year to March 2016.
In a letter to clients and staff the firm's founder Ray O'Rourke called the Canadian hospital "a particularly difficult large project," adding that the timetable for the build had been revised.
The first phase of the hospital was due to be handed over to the client in April last year, but saw the deadline pushed back to 6 November, but this was also scrapped.
The first phase of the hospital includes 772 beds in single rooms and 39 operating theatres. The completion of phase two of the hospital, comprising a library and an amphitheatre as well as administrative offices, is also understood to have been pushed back from 2019 to 2021.