Cost of dealing with pandemic tops £16m, country's biggest private contractor says
Laing O'Rourke has warned that its turnover could be down by as much as one fifth this year because of the covid shutdown in the spring as the firm said the cost of dealing with the pandemic had topped £16m.
The financial year of the country's biggest private contractor is still more than three months away but new chief financial officer Rowan Baker, the former McCarthy & Stone finance chief who replaced the retiring Stewart McIntyre in September, said sites being forced to close for weeks after the prime minister imposed a national lockdown in March could wipe between 10% and 20% off revenue by the time its latest reporting period ends on 31 March next year.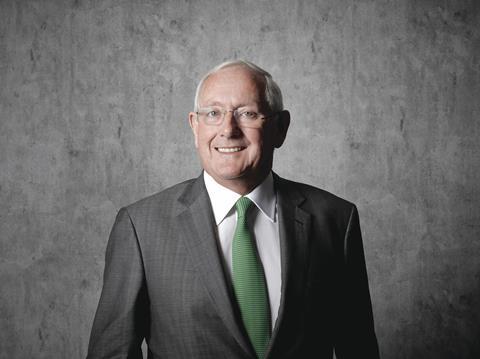 The firm, which saw turnover fall 14% to £2.4bn in 2020, said all of its sites were back up and running by the summer.
But a 20% income fall would see revenue dip just below the £2bn barrier – nearly £1bn down from the £2.9bn it posted in 2017.
O'Rourke said one site, believed to be the £850m Edinburgh St James Quarter mixed-use scheme, was facing "potentially irrecoverable covid-19 costs" which it blamed on the extended lockdown north of the border.
In its latest report and accounts, the firm said the cost of dealing with covid had hit £16.1m.
Baker said the firm's bottom line would also be hit by the impact of covid but by how much "remains to be seen". Pre-tax profit in the year to March 2020 was up 39% to £45.5m.
The firm brought back around 1,000 employees it had furloughed in April at the start of August, claiming £9.5m from the government's Coronavirus Job Retention Scheme.
Baker said it was not planning to pay the money back – unlike some listed firms who have decided receiving government money and sanctioning dividends is incompatible – but added it had not paid dividends this year and would not be paying any next year either. She added: "Government support has been very helpful and it [the furlough money] has been used for what it was intended to do."
O'Rourke restored staff to full pay at the start of August and in his chief executive's review of its latest results, Ray O'Rourke (pictured) said: "Every one of our people played a role in restoring our momentum. This included personal sacrifice, which will never be forgotten by a grateful business."
The firm said it had paid a PAYE tax bill of £31.2m, which was allowed to be deferred by the government because of the pandemic, at the beginning of July while a VAT liability of £28.5m would be paid in 11 equal monthly instalments from April next year.
Baker is hoping to tie up a refinancing deal in the first half of next year with the £177m deal agreed by her predecessor last year due to run out in December 2021.
Earlier this year, McIntyre told Building getting the refinancing away had been "really difficult" and the deal was finally struck several months later than planned causing its 2018 accounts to be filed with Companies House more than four months late.
Baker said the firm was already turning its attention to the subject but said the outlook to this deal is brighter than when the last one was signed – which was negotiated against the backdrop of Carillion going bust, a botched rights issue from Kier and the mounting problems of the then listed Interserve which collapsed into administration in March 2019.
"There is more government support for infrastructure and the backdrop is more stable," she said. "Market sentiment is better. Times have moved on a bit since then. We're feeling fine about it."
Europe, which includes its UK, Canada and Middle East work, remains its largest business with a turnover of £1.8bn – down from the £2.1bn it posted last time – while pre-tax profit was down 10% to £55.5m.
The division racked up a £2.4m bill for redundancy costs while it said losses on a disastrous PFI hospital contract in Canada had edged up again – by £5.4m to £209m. Baker said the firm was hoping to be finally off the job, the Centre Hospitalier de l'Université de Montréal, at some point next year.
Revenue at its Australia business, which is headed up by Ray O'Rourke's son Cathal, crept up by £10m to £640.7m with pre-tax profit jumping from £1.2m to £26.6m – although the firm said this was in part down to a successful arbitration decision which had been written off in 2019.
It said it had spent another £3.2m on legal bills, the same amount it shelled out last year in lawyers' fees, over a pay dispute with its Japanese partner on a huge gas station job in northern Australia.
The contractor was building four cryogenic tanks at the LNG Tanks Project in Darwin for lead construction partner Kawasaki Heavy Industries. The firm has lost just over £40m on the job which terminated in 2017.
Staff numbers at the year-end were 11,580, down from the 12,685 O'Rourke had on its books the year before. The firm's order book at the end of March stood at £8.2bn while net cash was up £22m to just over £155m.
O'Rourke said it had sold its stake in a special purpose vehicle called Yorkshire Learning Partnership, which was set up to build seven secondary schools in the county under a £120m PF2 initiative deal signed in 2016, for a £900,000 profit in May and October this year.