Former group boss who stepped down last week due to ill health could be back in driving seat 'within months'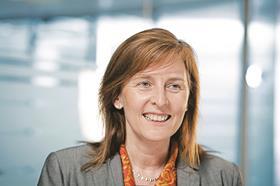 Laing O'Rourke has been briefing clients and contacts that former group chief executive Anna Stewart, who surprised the industry last week by stepping down due to ill health, is expected to return to run the £3bn turnover contractor on her recovery.
Laing O'Rourke said in a statement last week that Stewart (pictured), who was appointed chief executive in April 2013 after a decade working closely alongside company founder Ray O'Rourke, was stepping down "with immediate effect due to ill health". Ray O'Rourke has assumed control as chief executive following Stewart's decision.
The statement said Stewart will continue to support Ray O'Rourke with "a number of important strategic activities […] managed around her treatment regime," but said the firm would not comment any further.
However, Building has been told by numerous sources that senior Laing O'Rourke staff have told contacts they expect Stewart to return to lead the company, possibly within "weeks or months".
One Laing O'Rourke client said: "I wouldn't write off Anna yet. The message [from the firm] is 'she'll be back in the driving seat'."
A former Laing Construction executive, Anna Stewart joined Laing O'Rourke as part of the 2001 buyout by O'Rourke, becoming group commercial director of the combined firm in 2004. Since being appointed chief executive she has strengthened Laing O'Rourke's leadership team with major external hires such as former Kier chief executive Paul Sheffield, and former Capita Symonds boss Jonathan Goring.
A former competitor said: "She is simply a very, very smart and effective operator, and everyone is wishing her the best."
The news of her illness comes after a tough year for Laing O'Rourke, which reported a £58m pre-tax loss in its Europe division for the 12 months to March, after large write-downs in part related to problems with its off-site manufacturing facility.
Ray O'Rourke said in the statement: "Anna's medical treatment makes it impossible to continue with the full range of her extensive work duties and travel commitments. I can confirm that Anna will be continuing with the Laing O'Rourke Group."