Stuart Black goes days after founder rejoins contractor's board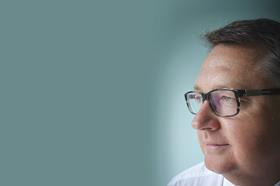 Lakehouse chief executive Stuart Black has quit – just three days after the firm's founder and biggest shareholder returned to the board.
Black (pictured), who joined the firm as executive chairman from Mears nearly eight years ago, had been criticised by Steve Rawlings as part of a boardroom row over the future direction of the firm.
Earlier this year, the firm issued a profit warning sending its shares tumbling and Rawlings, who set up the firm in 1988, told Building earlier this month that his own stake in the company had nosedived by nearly half to just over £12m.
Rawlings and fund manager Slater Investments, who between them own more than 20% of the business, were demanding that Lakehouse's three non-executive directors, Chris Geoghegan, Jill Ainscough and Jonathan Ford, go and be replaced by Rawlings, former Atkins finance director Ric Piper and Robert Legget, managing director of fund group Progressive Value Management.
All three joined the board on Monday – just 24 hours before a special general meeting was due to take place to discuss Rawlings' plans – with the move claiming the scalp of Geoghegan although Ainscough and Ford survived.
Explaining why he wanted Piper and Legget to join the board with him, Rawlings poured scorn on the current management when he said: "I'd also like to bring a couple of guys with me who I have got confidence in". He added that he wanted to have people who "know about managing plcs".
Rawlings said he was concerned the firm's regeneration arm is "going backwards" and added: "I'd like to know what's going on and what's gone wrong. I know the people in that company and they are calling me every week and I think the wrong people are in place."
Black, who was paid £250,000 last year for three days a week work as executive chairman, had criticised Rawlings and Slater and said their intervention was "hugely destabilising. We'd like it to stop as quickly as possible."
In a statement released to the Stock Exchange, Lakehouse said: "The Company announces that Stuart Black has resigned as Chief Executive Officer. In line with his contractual obligations, he has provided six months' notice, commencing today. The Board looks forward to working with Stuart to effect an orderly handover of his responsibilities."
Black's profile has already been removed from the firm's website. He stepped into the chief executive's post after Sean Birrane left the role last month with immediate effect