Birthplace of London film industry set for new 'film quarter'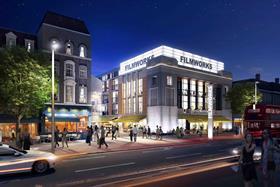 Land Securities has been selected to develop a new £100m cinema complex at the birthplace of the London film industry, Ealing.
The developer beat off competition from two other bids - Barratt subsidiary Wilson Bowden and Cineworld - to be selected for the west London redevelopment project by Ealing council.
The council hopes to see the new mixed-use development forge links with the nearby Ealing Studios which produced Ealing comedies and continues to shoot major independent films as well as TV programmes including Downton Abbey.
The previous cinema owned by Empire, closed in 2008, leaving the town with a building site rather than a cinema for more than four years.
The council made repeated calls for Empire to move forward with a redevelopment scheme approved in 2004 without success.
"We are firmly committed to Land Securities building Ealing's new cinema quarter" said councillor Julian Bell, the leader of Ealing Council.
"We gave Empire every opportunity to build a new cinema and yet four years later the site is still derelict. We are now progressing without them through a compulsory purchase order. With Land Securities on board, we will secure the new cinema that Ealing needs.
"I not only want to see Hollywood blockbusters being shown again in Ealing but also a far broader mix of independent films and events that will attract people from all over London. The innovative thinking of Land Securities means that once again when people think of cinema they will think of Ealing."
Land Securities development director, Nick Davis, said: "Land Securities has extensive experience in delivering and investing in the leisure sector and we're delighted with the council's decision to choose us as their development partner.
"We think Ealing has great potential and this 'cinema quarter' scheme will have a hugely positive effect on the town centre. We look forward to working with the council to ensure that a high quality leisure scheme is delivered which provides the long awaited cinema for the original home of the British film industry."