Developer secures finance from syndicate of eight banks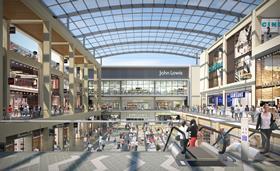 Land Securities has secured a new £1.3bn revolving credit facility from a syndicate of eight banks.
The facility replaces an existing £1.1bn revolving credit facility and the developer also retains £985m of existing bilateral funding arrangements.
The syndicate of eight banks behind the new facility are Lloyds Banking Group, Santander Global Banking and Markets, Royal Bank of Scotland, HSBC Bank, Citibank, Sabadell Bank, Bank of China and UBS.
The new facility will run for five years, but has the option to be extended to a maximum of seven years.
Martin Greenslade, chief financial officer of Land Securities, said: "We are pleased with this new refinancing arrangement, which extends the duration of our bank facilities, reduces costs and provides great flexibility.
"Our strong relationships with our core banking group, combined with our clear and consistent strategy have been the key elements in achieving these competitive terms."
The facility should help the developer deliver its three million sq ft development pipeline.
Last month Land Securities confirmed the appointment of Laing O'Rourke as main contractor on the redevelopment of Oxford's Westgate shopping centre.
The project incorporates more than 100 new stores, 25 restaurants and cafes, a new cinema and a rooftop terrace.