Housing association becomes JV partner on massive 10,800-home regen scheme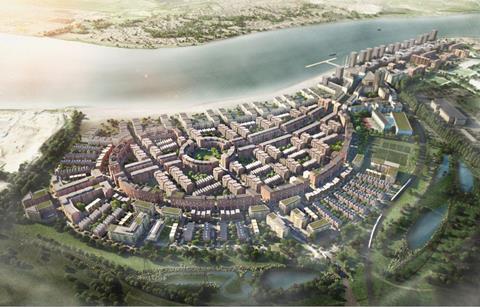 Housing association London & Quadrant (L&Q) has bought out Bellway's stake on the massive 10,800-home Barking Riverside regeneration scheme.
L&Q has taken over a 51% stake in the scheme from Bellway, and will deliver it with existing joint venture partner the Greater London Authority.
Bellway Homes has retained an option in the joint venture to build a "significant" number of the planned new homes on the site.
The project is on the site of the former Barking Power station, which had lain dormant for over 35 years until housebuilder Bellway Homes helped set up the site with planning permission and early phase development.
L&Q plans to quadruple the level of housebuilding on site to 600 homes a year. L&Q will also invest £70m into a £263m project to extend the London Overground line to a new station at Barking Riverside, to be completed by 2021.
Work on the extension is to begin in 2017 and will put Barking Riverside within 25 minutes of central London. New roads, bus routes and river taxi services will also connect the new neighbourhood to other parts of the capital.
The 179-hectare site is set to become a town the size of Windsor with 10,800 new homes, of which a third are to be affordable. The development also includes 65,000 sqm of commercial, retail and community facilities, one secondary and up to four primary schools, public squares and walkways, and major new highway infrastructure.
The Mayor of London, Boris Johnson MP, said the site had languished empty for too long and this new joint venture partnership demonstrated the importance of transport infrastructure in unlocking brownfield land in London.
David Montague, Chief Executive of L&Q, said the association was delighted to be partnering on the scheme and that the potential of the project is "enormous".
"We're setting out to quadruple the speed of delivery of new homes and that starts with investing in the critical transport infrastructure to connect Barking Riverside with the rest of the capital. The scheme is a significant step in delivering L&Q's promise to build a pipeline of 50,000 new homes in the next 10 years," he added.
Ted Ayres, Chief Executive at Bellway said the housebuilder was "pleased" to continue it's involvement in the project.
L&Q's investment at Barking Riverside is part of its five-year plan to accelerate its output and deliver 50,000 new homes over the next decade. Last year, L&Q issued a bond of £250m with a 34-year deal to support its growth plans.