Brand evolution includes new website and permanent name-change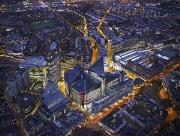 Developer Land Securities has unveiled a brand overhaul, including the changing of its name to Landsec.
The FTSE 100 property giant said that the evolution of its brand had built on its philosophy that 'everything is experience'.
Landsec chief executive, Robert Noel said: "At Landsec, experience is at the heart of what we do, it's not just about bricks and mortar. In a world where people have many choices about where they shop, dine, work, live or spend time, its experience that matters.
"This is a natural evolution; in fact, people often refer to us as Landsec already. The focus on experience isn't a new approach, it's just a clearer way of explaining what matters to us.
"Our updated brand reflects our culture, our people and our approach, putting the experience of our customers, communities, employees and partners at the heart of everything we do."
Landsec, which completed the first phase of its £2.2bn scheme Nova in London's Victoria district in April, has a £14.4bn portfolio totalling 23.2 millionft2.
The firm in its full-year results last month reported a drop in its pre-tax profit from £1.2bn last year to £112m for the year to March 2017, which it said was primarily down to valuation changes. However, revenue profit increased by £20m to £382m, up from £362m.
Landsec's development pipeline includes the second phase of Nova comprising a 16-storey office building with ground floor retail, but the company said it would only start on site "when the time is right" for the project.
Elsewhere in London, the firm redeveloping 21 Moorfields above Moorgate underground station in the City, where the demolition phase has now completed and Landsec is also conducting a feasibility study for a 360,000 sq ft scheme at Red Lion Court.
Noel said at the time that the shift between demand and supply in the London office market had been brought forward by Brexit. He added that while there was a reduction in construction, lower occupational demand and a fall in rental values it was less than expected.
"Put simply, our markets remain in good health but they've paused for breath," he said.