Creditors report reveals firm also had a shortfall of cash and orders and owed creditors £24m at the time of its collapse in April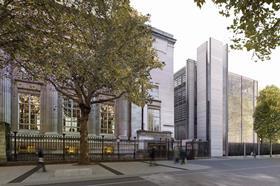 Withheld payments, cash shortfall and a lack of orders all contributed to the collapse of steel contractor Rowecord, a creditors report has revealed.
Administrator Grant Thornton said that despite acquiring £10m in cash from one major customer a month before entering administration "the profit and loss position of the company continued to deteriorate".
It added: "The directors had hoped to agree settlements on other contracts… but these had not been, nor looked likely in the short term, to be agreed and funds due for payment were being withheld."
The report revealed the current order book of the company was set to "run out within weeks".
Rowecord's director estimated the cash shortfall of the firm was £10m and expected it to rise to £12m by June.
The report revealed the firm owed creditors £24m at the time of its collapse in April.
It said that the trade creditors may yet see some of the £15.6m that they are owed.
Subcontractors to the firm are owed £10.2m and other trade creditors are owed £5.4m.
Among the hundreds of unsecured creditors is Port Talbot based engineer Andrew Scott, which is owed £2.8m; Welsh roofing specialist Aberclad Industrial Roofing, which is owed £783k; and scaffolding firm Xervon Palmers, which is owed £633k (see list below).
A further £8.2m is owed in wages, tax, loans and national insurance contributions.
The proceeds of the sale of machinery, due to take place between 2 and 9 July, will be shared among creditors, though administrators are still seeking to sell all or part of the firm as a going concern before then.
The report said the firm was threatened with a winding-up petition in March but Rowecord's directors negotiated a settlement of £10m from one of its largest customers to keep the firm afloat.
Rowecord built the roof of the Zaha Hadid-designed Olympic Aquatic Centre as well as the stadiums for Cardiff City Football club and the Llanelli Rugby Club.
It was working on major projects at the Dover Docks and the British Museum (pictured).
Rowecord - major unsecured creditors
Andrew Scott Ltd £2.8m
Aberclad Industrial Roofing £783k
Xervon Palmers £633k
Densit Wear protection £552k
Ainscough £500k
Sarens UK £452k
Marshall Steel Stairs £393k
ABC Contract Services £360k
Dutton International £357k
Mill Engineering £253m
GNM Resource £239m
Leven Bridge £238k
Spartan UK £224k
York Linings International £224k
Adlington Welding Supplies £206k
Speedy Asset Services £206k