Scheme is second major deal this year to be stalled by challenge from losing bidder
The formal award of the £1bn contract to build the Silvertown Tunnel has been suspended following a legal challenge from a losing bidder.
Transport for London (TfL) named consortium Riverlinx, which includes Ferrovial-owned roads specialist Cintra, Bam PPP and Australian bank Macquarie Capital, as its preferred bidder back in May.
The tunnel will link the Greenwich Peninsula and the Royal Dock in east London and had been due to open in 2025.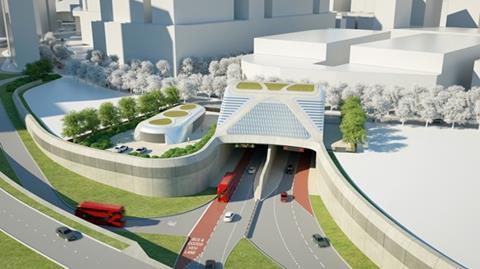 But now TfL has been forced to postpone its plans for the scheme after reserve bidder Silver Thames Connect (STC) – a joint venture which includes German construction company Hochtief, as well as Spanish engineers Dragados and Iridium Concesiones de Infraestructuras – issued a legal challenge.
While STC lodged its claim with the construction court last week, the papers detailing the reasons for the challenge are not yet publically available.
Commenting on the challenge, a TfL spokesperson said: "We are disappointed that our reserve bidder, STC, has decided to challenge the outcome of our procurement process for the design, build, finance and maintain contract for the Silvertown Tunnel. We are awaiting further details about the claim and will respond to them in due course."
She said the start of court proceedings by STC caused an automatic suspension of TfL's right to award the contract to Riverlinx later this summer as planned and that TfL would be looking to award the contract and begin construction as soon as possible.
This is the second legal challenge to stall the award of a major infrastructure contract this year.
HS2 has been forced to delay the official award of the £1.1bn contract to build Old Oak Common station in London to a joint venture made up of Balfour Beatty, Vinci and Systra after a challenge from runner-up Bechtel.
HS2 will find out next month if it can continue with the award of the contract, with a judge set to decide if it can lift the suspension at a hearing on 3 September.
A second court hearing to hear Bechtel's claims is not set to be heard until October 2020.