Lawyers warn individuals could face arrest and firms be held liable for breaches by subcontractors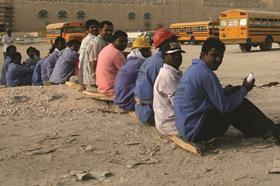 UK-based construction firms working in Qatar could be prosecuted under criminal law for the deaths of migrant workers, legal experts have warned.
The warning came after the Nepalese government disclosed last week that 70 Nepalese labourers have died on construction sites in Qatar since the start of 2012, with a large number of the fatalities due to accidents at work or heart failure.
With the International Trade Union Confederation claiming that the Qatar 2022 World Cup construction programme could claim the lives of as many 4,000 migrant workers, based on current practices, lawyers have now highlighted the extent of the legal threat to UK-based contractors and project managers.
Solicitor Leigh Day is already investigating whether a number of UK contractors and project managers in Qatar may have breached Qatari labour laws, but others now suggest global concern over the issue could see the Qatari government move to arrest Qatar-based westerners under criminal law.
If I was a senior manager working for a firm in Qatar, I'd be really quite nervous

Jan Burgess, CMS Cameron McKenna
"If I was a senior manager working for a firm out in Qatar, I'd be really quite nervous at the moment as this is becoming so highly publicised," said Jan Burgess, a partner in CMS Cameron McKenna and solicitor specialising in health and safety.
"We may see some reaction from the authorities and that could be for them to go into big companies and arrest senior managers."
Burgess added that civil cases could also be raised against firms in the English courts based on Qatari labour law, breach of contract, or English common law.
Carl Dray, a partner in law firm Nabarro who also specialises in health and safety, said UK criminal law concerning safety at work - including corporate manslaughter - could be applied to any Qatar deaths, particularly where a UK manager is seconded in Qatar or where the UK firm is overseeing a subsidiary working there.
"Firms need to ensure they are abreast of these issues [and] reflect that in their approach to risk assessment and the decisions over how they want to undertake work over there," he said.
Partner at Leigh Day, Daniel Leader, said: "Construction firms have a duty to make sure they are operating in a manner compliant with Qatari law and with international labour standards […] with regard to their own workforce but also [with regard to] the behaviour of subcontractors."
The Middle East division of the Chartered Institute of Building is urging its members and other expat construction professionals in the region to "challenge unacceptable welfare standards" and make worker welfare a priority on projects while Constructing Excellence hopes to play a part when it opens a regional branch in Qatar next year.
Keith Clarke, the former Atkins chief executive who now advises the Qatari government on infrastructure and planning, conceded it was difficult for firms to challenge their clients in Qatar but warned there was "no excuse for not trying".
Building Qatar 2022: What does it involve?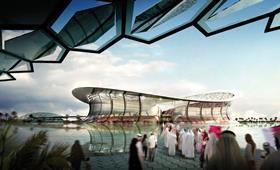 Under its proposal to Fifa, Qatar will build nine stadiums and renovate three more for the 2022 World Cup.
The country will spend an estimated £3.1bn on stadiums and related works for the World Cup - the first time the tournament will be staged in the Middle East - according to UK Trade & Investment.
After the Cup Qatar plans to dismantle parts of the stadiums and send them to developing countries to make 22 new stadiums.
Qatar also plans to spend about £62bn on infrastructure projects to prepare for the tournament, on schemes such as public transit networks and airport expansion.
According to the Global Construction 2025 report, Qatar is forecast to have the fastest growing construction market among the 46 countries examined, with average double-digit growth of 10% a year between 2012 and 2025.