International inspectors gathering evidence on conditions of Qatar construction workers turned away by officials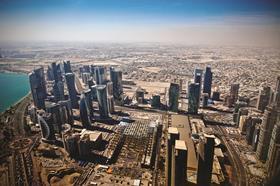 A team of international inspectors gathering evidence on the condition of migrant workers in Qatar has been denied access to a major Vinci construction site in the 2022 World Cup host country.
Following reports of deaths including 70 Nepalese workers on Qatari sites since the start of 2012, international construction union body the Building and Wood Workers' International (BWI) last week undertook an investigative mission in Qatar involving health and safety experts and labour inspectors from nine European and two Asian countries.
Among a number of visits, the team attempted to inspect a Vinci site at the £28bn Lusail City project being developed by Qatari Diar.
However, the team was turned away by officials on the site according to Marion Hellmann, assistant general secretary of the Zurich-based BWI.
Hellman said Vinci was "very stubborn" in not allowing them access despite further attempts to visit the site.
He said that before travelling to Doha the union had contacted Vinci's chief executive Xavier Huillard but he didn't respond.
However, a Vinci spokesperson said that it was not the contractor's decision to deny the inspectors access to the site. "About the unions not having access to site, please understand that only [the] Lusail authorities can give access," he said.
He added: "Our full respect of human dignity cannot be called into question. Moreover, our standards - working conditions, personal protection equipment, safety procedures, housing, catering, leisure, etc - are, within the framework of the Qatari laws, [the] best in class."
In a statement to mark the end of its visit, the BWI said that it had gathered evidence that showed the problem of poor working conditions on construction sites was "widespread" in Qatar and that a "climate of fear persists" among workers.
Lusail City is set to include the Foster + Partners-designed stadium, which will host the World Cup final.
Qatari Diar was unavailable for comment.