Contractor will construct £100m Staffordshire barracks for soldiers redeployed from Germany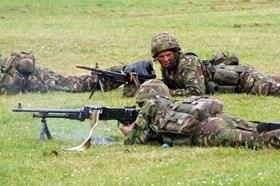 Lend Lease has won a £100m job to redevelop Beacon Barracks in Staffordshire for the Ministry of Defence.
The barracks will become one of seven major hubs for the UK Army and will be home to two signal regiments moving from their current bases in Germany.
The redevelopment work will involve the construction of 25 new buildings and the refurbishment of eight existing buildings.
New and refurbished facilities will include workshops, a combined mess, single living accommodation for personnel, offices, garages, catering, retail and leisure facilities and a medical and dental centre.
The procurement process was run by the Defence Infrastructure Organisation (DIO) on behalf of the MOD.
Stuart Gallacher, DIO project manager said: "DIO's priority is to support our Armed Forces by providing the best possible facilities for them to live, work and train.
"Today's contract award marks a significant milestone in this important programme which will not only bring a boost to the local economy by the relocation of two regiments but will also help provide value for money for the taxpayer."
Pat Boyle, executive general manager at Lend Lease, said: "We are delighted to continue our long-standing support of the MOD and DIO following the award of this prestigious project. This is another step forward in providing the forces with the best possible facilities."