King's Cross scheme was first major site to be hit by coronavirus outbreak
Lendlease has said that limited work at a number of its schemes has restarted but the firm confirmed its £1bn flagship Google headquarters site in King's Cross is still shut down.
The contractor has a number of high-profile schemes around the country with its City of London jobs at One Bishopsgate Plaza and 6-8 Bishopsgate, both being built for Stanhope, now restarting along with its deals to build the athletes village for the 2022 Commonwealth Games in Birmingham and the revamp of the grade I-listed Manchester Town Hall.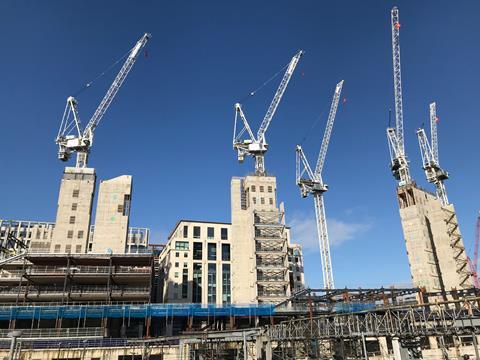 But work at the firm's Google job, which last month became the first major site to be hit by an outbreak of coronavirus, is still paused.
The site, which employs more than 200 people, was closed for three days last month while it was checked over by the health authorities before being reopened.
A spokesperson said: "Different sites provide unique challenges and our teams have been reviewing how tasks can be performed effectively and safely while operating in line with the government's directives as issued by Public Health England.
"This has involved very detailed engagement with our partners, clients, contractors, supply chains and their workforce, as well as other specialists. We are now opening those sites when we can operate safely and in compliance, albeit this is on a limited basis."
Other Lendlease jobs reopening their doors include the Oxford House office and retail scheme in London's West End for Great Portland Estates and the Manchester New Square residential scheme for Urban & Civic.
The spokesperson added: "It is essential our teams feel safe at work and that remains our number one priority. We will continue to review these plans and listen to all of the expert advice available regarding covid-19 and safe working practices."
Other firms which have begun reopening sites in the past couple of weeks have included Mace, Multiplex and Sir Robert McAlpine.