Australian firm's European contracting division posts £1.9m pre-tax loss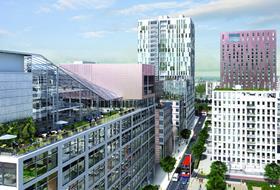 Lendlease's European construction arm has slipped to a first-half loss due to "challenging" market conditions in the region.
In results for the six months to December 2015, posted by Lendlease on the Australian stock exchange, the firm posted a A$3.8m (£1.9m) pre-tax loss for its European construction division, compared to a A$16.6m (£8.3m) pre-tax profit the previous year.
Lendlease said despite picking up new major construction projects - helping lift revenue by 12% to A$689.6m (£343.6m) - it had slipped to a loss as "market conditions remain challenging" in Europe.
The firm's overall European business - which includes a sizeable property development business - posted a 4% rise in pre-tax profit to A$79.9m (£39.8m), up from $77m (£38.4m), while revenue increased 13% to A$773.6m (£385.4m).
Lendlease is developing two of London's largest mixed-use schemes - the International Quarter commercial district (pictured) in Stratford, east London, and the residential-led regeneration of Elephant & Castle to the south.
The firm's European construction business enjoyed a surge in new work, soaring 126% to £300m, largely down to two large commercial buildings at the International Quarter, which will be occupied by Transport for London and the Financial Services Authority.
The construction business also has preferred bidder status on projects totalling around £500m.
Neil Martin, managing director of Lendlease Construction in Europe, said: "We slipped in to a small loss at the half year. That being said, we've had a fantastic year for winning work despite tough market conditions.
"We have a robust pipeline – striking a good balance between internal and external clients. In the past few months alone we have won a major new £80 million contract with Liverpool John Moores University."
Housing pre-sales at all of Lendlease's London developments progressed strongly, with all 284 apartments at its 37-storey One the Elephant tower already sold, while units at South Gardens 85% presold and West Grove 65% presold.
Globally, Lendlease posted a 12% rise in pre-tax profit to $354m (£176m), up from $316m (£157m), while revenue jumped 24% to A$7.3bn (£3.7bn), up from A$5.9bn (£2.9bn).