High Road West will go up next door to Tottenham Hotspur's new football ground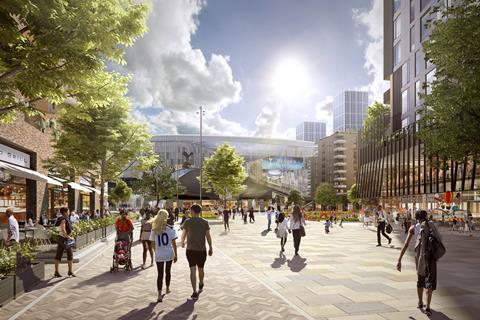 Lendlease has been recommended as the preferred bidder on a new regeneration project located next to Tottenham Hotspur's new stadium in north London.
Once approved by Haringey council, the firm will build more than 2,500 homes, 30% of which will be classed as affordable, as well as a new library and the creation of around 3,000 jobs for the duration of the project, which is called High Road West.
Dan Labbad, Lendlease's chief executive, international operations, said: "We are delighted to have been recommended as the preferred bidder for such a transformational project and look forward to working with Haringey council, the local community and other stakeholders to help realise the vision for Tottenham."
The area is set for a major revamp with Mace building a new stadium for Tottenham Hotspur.
The current ground at White Hart Lane will be replaced with public space, a hotel and a sports hub which is expected to include a diving tank and climbing wall. Close to 600 residential units will be built at the site under a scheme designed by Allies and Morrison. A grade II listed building at the site, Warmington House, is being turned into a museum depicting local history along with the club's.
Earlier this summer, Lendlease signed a deal with Haringey council to build 6,400 new homes in the borough with the programme also including improvements to community facilities and public spaces.
The Haringey Development Vehicle is a 50:50 partnership between the council and Lendlease. It will deliver £2 billion of new development – measured in 2015 prices – over the next 15-20 years.