Purcell is lead architect on £40m scheme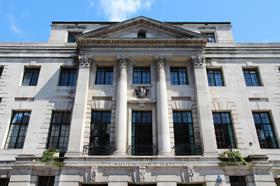 A £40m refurbishment of grade II-listed Camden Town Hall is edging closer after the local authority resolved to give it planning.
Lendlease is the project manager on the refurbishment, with heritage specialist Purcell the lead architect.
A Camden council spokesperson said: "The [planning] committee have resolved to grant permission and listed building consent but no permission has been issued as of yet."
Some soft strip and asbestos removal is underway at the building (pictured) – but this work does not require planning permission or listed building consent.
The town hall's main Judd Street entrance will be refurbished, with a new reception area. In addition, a new commercial office entrance will be created on Bidborough Street along with two new entrances to the Camden Centre on Tonbridge Walk.
The plans also include upgrading windows, replacing the third floor conservatory, general cleaning and maintenance of the building's façades and conservation repairs.
Building services will be upgraded throughout and the registry office will be reconfigured – with a new wedding suite along with refurbished spaces for registering births, marriages and deaths.
The building's basement will contain what the council describes as "an incubation space for local business start-ups" while the second and third floors will be rented out as office space.
The Camden Centre, at the eastern end of the building, will be used for commercial events and run by Il Bottaccio, an international event production, catering and entertainment company, under the proposals.
Lendlease's construction logistics plan, submitted to planning officers earlier this year, stated: "The construction of the building is scheduled to begin February 2020. The building will be completed and ready for occupancy in January 2021."
However, the refurb appears to be at least nine months behind schedule already, with the council's website stating that the town hall will not be reoccupied until autumn 2021.