Firm carried out work on first phase of Croydon development
Lendlease is being tipped to carry out the next phase of work at the Ruskin Square development next to East Croydon station.
The firm completed work on One Ruskin Square, designed by Shed KM, three years ago and which has been let to HMRC.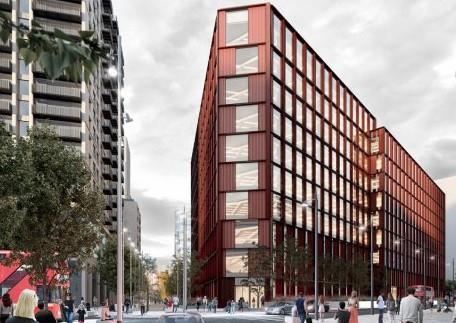 This £40m job was built by Lendlease having been appointed by funder Schroder and development manager Stanhope back in summer 2015.
Called Building Two (pictured), the next phase is worth around £100m and has been designed by AHMM and will run across 10 storeys. Arup is engineer and Alinea the QS.
Last month, Schroder and Stanhope secured a major pre-let agreement with a government department on a 25-year lease for Building Two.
The pair have not said who the tenant is but the Home Office's UK visas and immigration division is currently billeted in the 20-storey Lunar House elsewhere in Croydon.
The building, which takes its name from the moon landings of the late 1960s, was completed in 1970 and is synonymous with the immigration division of the Home Office.
Lendlease is expected to start work in earnest on the job later this year with completion due in 2023.
At around 350,000 sq ft, it is significantly larger than the first plan for the building, drawn up by Make, which was close to 185,000 sq ft.
AHMM was behind designs for a 161-home residential block at the development called Vita that was completed four years ago by Midgard. Construction was managed by regeneration firm Places for People.
Two more office buildings are planned for the Ruskin Square development rising to a maximum of 15 storeys while a further three residential plots are also due to be developed.