UKTI construction and infrastructure mission delayed after death of US ambassador and amid "ongoing instability"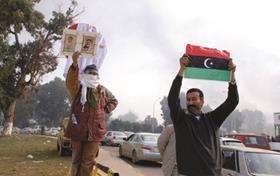 A trade mission to Libya on behalf of the construction industry has been postponed following the murder of the US ambassador and three of his staff.
The three-day UK Trade & Investment mission on Libyan construction and infrastructure, which had been planned for early October, is now expected to take place the following month.
US ambassador Chris Stevens and three colleagues were killed last week by heavily-armed militants who attacked the US consulate in Benghazi.
Private-sector trade body British Expertise, the organiser of the event on behalf of UKTI, told Building that the "ongoing instability" in Libya had prompted the postponement, even though the mission is to the Libyan capital Tripoli and was not expected to visit Benghazi.
British Expertise director for the Middle East and Africa, Alex Lambeth, said: "We have delayed it until November because of the [British] embassy staff having their movements restricted by increased security measures.
"We are announcing the new dates over the next few days."
The mission is being billed as a chance to "meet and network with key construction buyers and decision-makers and gain sector and business advice" with a few places for delegates still remaining.
Back in January, ten members of British Expertise took part in the first British construction delegation to post-Gaddafi Libya.
Those taking part then included Kier, Halcrow, Mott Macdonald, Capita Symonds, KBR, Ernst & Young, GMW Architects and Conseco International.