FRC to reach decision on former FDs Zafar Khan and Richard Adam by March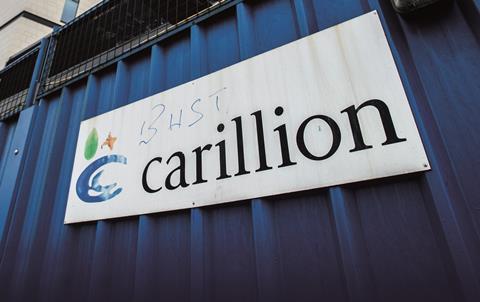 The Insolvency Service has managed to recoup just over half a billion pounds for creditors in the 20 months after Carillion went bust.
Official receiver David Chapman, who is the liquidator for the collapsed contractor, said it had raked in just over £500m by the end of September.
Chapman said this was £88m more – about 20% – since his last update in December 2018.
In a letter to MPs Rachel Reeves and Frank Field, the co-chairs of the parliamentary inquiry into the contractor's collapse, he said the amount would continue to rise – but was unable to say by how much.
He added: "I anticipate further recoveries in excess of £10m. These recoveries will be the result of our ongoing … negotiations with third parties as we seek to realise value from asset sales, insurance recoveries and debtor recoveries."
In his letter, dated 30 September, Chapman said special manager PwC, which is assisting the official receiver with the liquidation, was paid £52.2m for its work between last January and the end of August this year.
Chapman said he still needed PwC's help as he attempted to "progress and complete litigation against a number of parties".
He added: "The expectation is that if successful the litigation will improve recoveries for creditors and further reduce the net funding position."
The letter was made public at the same time as a letter from Financial Reporting Council (FRC) chief executive Stephen Haddrill, who is heading an investigation into Carillion's directors and its former external auditor KPMG.
Haddrill told Reeves and Field the FRC would decide by next March whether it would act against former Carillion finance directors Zafar Khan and Richard Adam. It is looking into allegations of potential misconduct by the pair.