Peter Meehan gave evidence to the parliamentary inquiry into contractor's collapse last February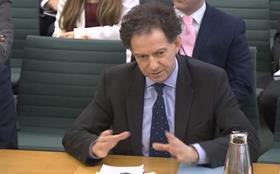 Big Four accountant KPMG has suspended the partner who signed off Carillion's last full set of accounts, as well as three members of his team.
Peter Meehan (pictured), who fronted a joint parliamentary inquiry into Carillion's collapse last February, was suspended as part of an investigation into an audit quality review carried out by the Financial Reporting Council in 2017.
A spokesperson from KPMG said: "Over the past year, we have been performing a thorough review of the firm's audit of Carillion. Our investigation included the audit team's response to the FRC's audit quality review undertaken during 2017, which looked at aspects of the 2016 audit.
"Concerns were identified in connection with a small number of documents provided to the FRC's team during the routine audit quality review. On discovery of this information, we immediately reported our findings to the FRC.
"It is important to note that this took place after the signing of the audit opinion and we have not identified any evidence or indication that it had any impact on the audit conclusions of Carillion.
"We are taking this matter extremely seriously and have engaged outside legal counsel to conduct an independent investigation into the circumstances of the audit quality review and the conduct of the individuals involved. We acted swiftly and decisively and will continue to take all necessary steps to deal with this."
The spokesperson said KPMG was continuing to cooperate with the FRC's investigation of Carillion's 2016 accounts, which the City watchdog announced last January.