Work for Leeds Beckett university to complete in 2020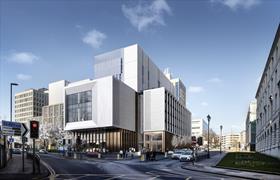 Liverpool firm George Downing Construction has begun work to build a new £80m arts building for a Leeds university.
The firm is part of the Downing group, which also includes property management and development.
It is set to complete the building in September 2020 which has been designed by Hawkins Brown, the architect behind the Here East creative hub that now stands at the former Carillion-built media centre for the 2012 Olympic Games in east London.
The building will be home to Leeds Beckett university's £80m Creative Arts Building which will include the university's School of Film, Music and Performing Arts, as well as the fashion department. It will include a performance theatre and 220-seat cinema, as well as specialist studios for fashion, music, film and television.
It wll be the flagship development in a new Innovation District in Leeds, a partnership between Leeds Beckett, Leeds university, Leeds Teaching Hospitals NHS Trust and the city council which aims to attract new research facilities and boost the local economy.
Leeds Beckett is planning to spend £200m upgrading its estate over the next five years.