Exclusive: City of London search for concert venue site hones in on area between Mooragate, St Paul's and Farringdon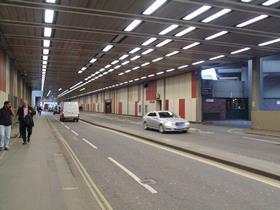 A state-of-the-art music concert hall is to be built in the City of London - and a road tunnel under the Barbican complex may make way for the venue, Building understands.
Chancellor George Osborne yesterday gave his backing to the campaign from conductor Sir Simon Rattle for a world-class concert hall in London. Mayor Boris Johnson also supports the scheme.
Osborne has requested a feasibility study into the project, and the City of London Corporation has begun scouting possible locations.
Building understands the City of London Corporation is honing in on the triangular area between Moorgate, St Paul's and Farringdon tube stations and that the Barbican road tunnel is an early frontrunner location for the concert hall.
A source close to the project told Building the area between Moorgate, St Paul's and Farringdon stations has been earmarked for a new 'cultural hub' for the capital.
The planned cultural hub would encompass existing arts facilities such as the Guildhall School of Music & Drama, the Museum of London, and the Barbican Centre. The source said the Corporation is keen for "much more intensive use" of the area, particularly once the Crossrail station at Farringdon is completed in 2018.
One site under consideration is the Beech Street road tunnel, to the north of the Barbican.
"The only problem is what would happen to the traffic; is there enough capacity on London Wall to take the displaced vehicles?" the source said.
"A feasibility study would have to examine the likely impact on the surrounding streetscape, and how pedestrians, cyclists and road vehicles would mix."
But with vehicle traffic in central London falling 25% in the past decade, according to Transport for London, the impact of closing the tunnel may be minimal.
The City of London Corporation has set up a working party to examine options for developing the culture hub. It will coordinate improvements to the streetscape, links to future transport infrastructure developments, and increased collaboration between the cultural institutions in the area.
A timeframe for construction of the concert hall will depend on the outcome of the feasibility study, the source said.
The proposed venue would include state-of-the-art acoustics, and would host the London Symphony Orchestra, plus those from other UK cities, such as the City of Birmingham Symphony Orchestra and the Royal Liverpool Philharmonic. It would also feature digital and educational facilities.
Osborne said it would give "significant artistic, educational and economic benefits" to London. Johnson added it would cement the capital as "a world city for culture".