Fire chief says it will be 'some time' before Holborn electrical fire is fully extinguished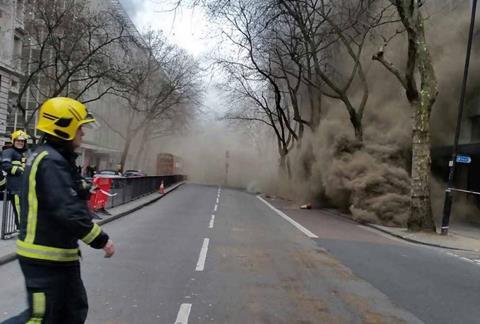 More than 2,000 people were evacuated from buildings in central London and a number of West End shows were cancelled yesterday following an electrical fire.
Ten fire engines and 70 firefighters were called to Kingsway, in Holburn, after smoke started to billow out of an inspection cover at 12:30pm. Twenty-one firefighters and officers were still at the scene this morning.
London Fire Brigade Assistant Commissioner Peter Cowup said: "This has been a technically difficult incident to tackle. The reason that the fire is still burning is because the service tunnel is hard to reach and although firefighters have been applying water through access points throughout the night, the complexity of the tunnel layout means that it will be some time until the fire is fully extinguished
"However, the fire is contained and we are making steady progress and working with the utility companies and the police to bring this incident to a close."
Yesterday, onlookers reported struggling to breathe and "chaos" in and around Holborn, and shows at the Lyceum, Duchess and Aldwych theatres were cancelled.
UK Power Networks said 1,900 customers in the area had been left without electricity.
Part of Kingsway is still cordoned off but this area has now been reduced to the south end of Kingsway and some side streets.