Levitt Bernstein-designed council flats part of push by Southwark to build 11,000 low-cost homes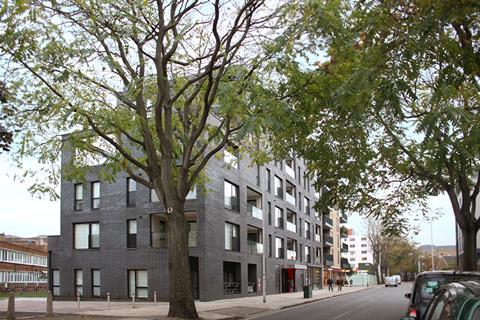 Architecture practice Levitt Bernstein has completed 21 council homes in central London available to rent at 40% of the local market rate.
The homes (pictured) in SE1, Southwark, are located on Villier's Court a short walk from the Thames and Borough tube station.
The development is part of an ambitious push by Southwark Council to build 11,000 homes over the next thirty years available at social rent levels.
Levitt Bernstein said the homes were designed to be comparable to or exceed the quality of most London private housing.
The practice's director Barry McCullough said: "It's great to have been involved in this project, where a Local Authority is making the most of underused public land to build much needed new council homes.
"There is a real emphasis here on space and quality and a desire to match, or even better, the standard of homes offered by the private sector."
Stephanie Cryan, cabinet member for housing at Southwark Council, added: "I am delighted that our council tenants get to live in homes which are just as beautiful and comfortable as those in the private sector.
"I'm really proud that families from this area will be getting the keys to an apartment that they can afford to enjoy, with the freedom to manage their own homes."
Housing association Leathermarket JMB will manage the homes.