We need infrastructure that understands and responds to the needs of individuals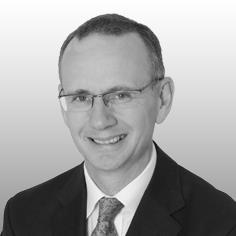 What I think is more important for consultants and contractors is to look at how we can focus the delivery of our infrastructure around outcomes. If infrastructure is really just a means to an end - an enabler of everyday life - then we need to be clear about what we're trying to achieve and the impact we're trying to make.
We need to understand what people want from infrastructure and what it enables them to do, and use this information to make smarter decisions about what we build and how we build it. It's about creating infrastructure that understands and responds to individuals while serving the common good of society, the environment and our city.
Technology can help us build intelligently and really help London grow and its communities prosper
We've got a great opportunity here to use ever increasing amounts of rich digital information to better influence and integrate our infrastructure. We now have access to real time data that can help us understand how people live and move in the city, and from that we can create services so that they meet today's needs, rather than trying to make predictions from samples which capture a moment in time.
With intelligent mobility for example, Atkins is taking an end-user and outcome-focused approach to connecting people, places and services – all enabled by data, technology and innovative ideas. These kinds of disruptive, digitally-powered approaches are exactly what we need to face the increasingly complex challenges of today.
Last month I had the opportunity to join colleagues from Transport for London, the Greater London Authority, Old Oak and Park Royal Development Corporation, Battersea Power Station Development Company and British Land on a panel at Building Live looking at development under the new London mayor. Specifically we were asked about London's priorities for growth, and what our industry needs to do to help meet the challenges of delivery.
When it comes to infrastructure, I think the priorities for London are clear. Of course we all have our views, but we also already have a wealth of resources, from the ICE's National Needs Assessment and London Manifesto to Sadiq Khan's 'A City For All Londoners', that studied our capital's needs in depth.
For me, excellent delivery is about doing it right, doing it once and doing it smarter. And we can't do this in today's world without technology or a clear understanding of outcomes. This could be anything from using digital engineering to create mixed-use developments that blend our businesses and communities perfectly, to using modern construction methods like offsite production to ensure we're delivering high quality homes quickly and at an affordable price. There are now high quality offsite housing solutions promising to deliver at two thirds the price of current build and at an even faster rate; this can't be ignored.
So for me the priorities for our industry in London are clear. To give London what it needs we need more collaboration, efficiency and disruptive thinking, and delivering on our promises. We need outcome focused delivery, enabled by technology and data. If we use it right, technology can help us build intelligently and really help London grow and its communities prosper. If we do this in a wholly integrated way – looking not just at a new station or road in isolation, but at placemaking, with all of the social infrastructure that creates thriving communities for people to work and live – then we can really achieve our ambitions to maintain London's place as a leading world city.
And this isn't just applicable to London. It's just as relevant to our regional cities. In London and throughout the UK, it's imperative that we create an infrastructure delivery model based on what end users need, where everything we build improves our quality of life and creates great places for us to live and work.
Mike McNicholas, managing director – Infrastructure, Atkins