Former chancellor campaigning for more accommodation of all kinds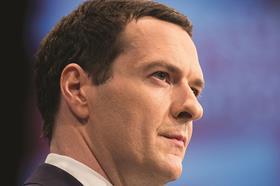 Former chancellor George Osborne has said a lack of housing is "London's biggest problem" right now as new figures reveal the capital's struggles with increased shortages.
He was speaking at a conference yesterday (Monday) at the former media and broadcast centre at the Queen Elizabeth Olympic Park which has now been turned into a tech and business hub.
New figures, compiled by Ordnance Survey mapping specialists on behalf of pressure group London First using drones, plane and ground level observation to identify every housebuilding development of more than 10 units, show that just 3,477 new homes are projected to be built in transport zones 5-6 this year – down from last year's 4,523 and representing just 17% of the numbers required to meet the level of demand estimated by the government.
London First expects 42,543 homes to be built in zones 1-4 in 2017, falling short of the 53,776 that are needed under proposed new methodology announced by communities secretary Sajid Javid last month. But this is still more than the 34,194 that mayor Sadiq Khan's current London Plan says must be built.
"Housing is London's biggest problem and is this city's single biggest challenge in the coming years," said Osborne, now the editor of the Evening Standard in London. "Everyone wants more homes – it's just that they don't want them next to where they live.
"It is very frustrating and is something I have had many battles with in my previous career but it is one that the newspaper I now edit is going to absolutely campaign for.
"We are leading the charge again, calling for more homes and mixed accommodation of all kinds – rent, social housing and those for purchase, so that we can continue to accommodate this growing and thriving city."
Last week, prime minister Theresa May announced that the Help to Buy programme will receive an extra £10bn to help more people buy homes by 2021.
Source: London First

| Housebuilding in London | | | |
| --- | --- | --- | --- |
| 2016 | Zones 1-4 | | Zones 5-6 |
| New homes (original target) | 34194 | | 8194 |
| Required figure (new formula) | 53776 | | 19582 |
| Actual build-out rate | 19362 | | 4523 |
| Actual built-out as % of required figure | 36% | | 23% |
| 2017 | | | |
| Actual build-out rate (projection) | 42534 | | 3477 |
| Actual built-out as % of required figure | 79% | | 18% |